I would definitely say we had a fun day today!  Molly and I both brought in trays of cupcakes!  She, because her birthday was over the break.  Me, because … it was April Fool's Day (she said with a sinister smile on her face).  Here's a picture of my cupcakes.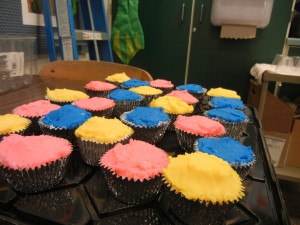 What only looked like frosting was in fact mashed potatoes.  Beneath the mashed potatoes was a little meatloaf.  Hardly what everyone was expecting!  Molly's cupcakes were the real deal though.  Delightfully yummy!
Towards the end of the day, we had yet more laughs when the principal helped me pull off another prank.  Even though we live in an area that is not prone to flooding, we managed to convince the students that we needed to do a 'flood drill'.  They were told that they were the first to learn the drill and would be responsible for teaching it to the other classrooms in the building.  Because of that, they took it very seriously.  Next they were asked to stand on their chairs, take off their shoes and roll up their pant legs.  At that point, the principal revealed it was a prank.  I caught the last bit on video.
Fun times in fifth grade!  I love my job.