I live in a small village where it's not at all unusual to run into my students outside of school.  In fact, I like when it happens!  It was just this past Monday that I walked downtown to run an errand.  On my way back home I stopped on the bridge to watch the creek.  A boy on a bike stopped alongside me.  I caught the big smile of recognition on his face just before he spoke.  Sam was as happy to run into me as I was to run into him!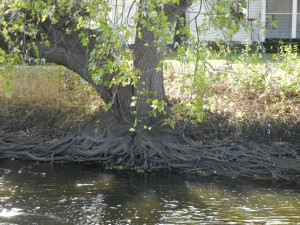 Sam stood with me looking at the water and the exposed roots of a rather large old tree on the bank of the creek.  After a bit he said, "Logan and I came over to your house about a week ago and knocked on your door, but you weren't home."
Of course I was very curious.  "I'm sorry I wasn't home.  Was there something you wanted?"
"Well, we both had questions about some words we've been thinking about."
I couldn't keep the smile from forming.  Sam proceeded to share his curiosities about the product known as 'Orajel'.  Since it is primarily used in and around the mouth, he thought <ora> might mean teeth.  I was impressed that he was obviously looking at the word's structure and thinking about meaning!  We talked a bit about how companies, when naming new products, sometimes create product names by combining two or more words.  In this case, perhaps the two words are <oral> and <gel>.  The word <oral> has to do with the mouth, so this hypothesis makes sense.
After a bit more discussing, I couldn't help but wonder what Logan was going to ask about.  It seems that Logan has been thinking about <able>.  He knows it can be a free base, but he has also noticed it used as a suffix.  Sam and I talked as we walked in the direction of his house.  At the end of the next block, he got on his bike and zipped off so he wouldn't be late getting home.
And the beat goes on….  THIS is what studying orthography does to a person!  My students and I now possess a curiosity about words that enriches what we read, what we write, and what we spend our time thinking about!  Imagine how wonderful it feels to have these impromptu word discussions outside of the school year.   The great news is that this is the fourth such discussion I've had this summer with various students!  In the 19 years I've been teaching and living here, I never once had a student stop me in the middle of summer to talk to me about <i> before <e>, syllables, or even phonics.  Wonder why? Blech!  That's why!
I want to savor what's left of my summer, but I have to say that I'm starting to look forward to the new school year and a new group of fifth graders.  And the beat goes on….