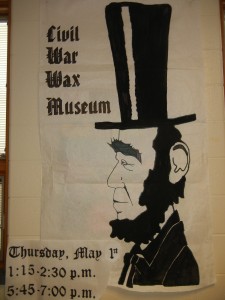 Today was the day.  The count down began last week.  Busy.  Busy.  Busy.  Finish writing reports.  Finish maps.  Then there are the little things like the Table of Contents, the dedication page  and the About the Author page.  Measure out the cover.  Cut.  Put the pages inside.  Pound a nail to create holes for sewing.  Sew the pages to the cover.  Cover the cover.  What to use?  Wallpaper? Colored paper?  Measure out, cut and glue to cover.  Fold over edges and glue.  Measure, cut and paste  the end pages.  Decorate the cover.  Number the pages.  Admire.  Feel proud.
Decorate the Little Theater.  Student-made posters created and saved over the last 19 years need to be taped to the walls.  Hang  stars and sparkly strips.  Set up tables.  Cover the tables and book shelves with colored paper.  Hang flags.  Display artifacts.  Display resource books.  Display handmade hardcover books.  Practice the Gettysburg Address.  Get costumes on.  Get in place.  Welcome visitors.  Every 20 minutes or so, stop to recite the Gettysburg Address.
Here are some pictures of our event … our cast of characters.